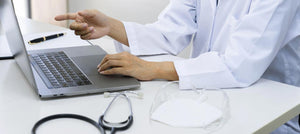 JUVIA™ FOR HEALTHCARE PROFESSIONALS
The revolutionary gut supplement that will improve your patients' lives.
We're on a mission to help your patients with IBS free themselves from restrictive diets and endless 'solutions' that just don't work.
DOCTORS AND PEOPLE WITH IBS FEEL FRUSTRATED AT THE LACK OF EFFECTIVE TREATMENTS¹
As IBS is the most common gastrointestinal condition seen by GPs³, it costs the NHS over £75 million³ a year. We can help reduce that number.
JUVIA Digestive Balance Formula is backed by cutting-edge science pioneered by Professor John Hunter, formerly of Addenbrooke's Hospital, and Dr Rosemary Waring, University of Birmingham, leading investigators in the areas of gut health and metabolic disorders.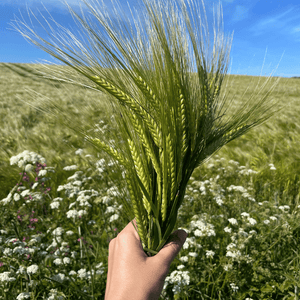 ERME - THE ONLY INGREDIENT OF ITS KIND
JUVIA contains ERME™ (Enzyme-Rich Malt Extract), a unique natural ingredient derived from 100% sustainable barley. To the best of our knowledge, ERME is the first product to specifically address the causes and the symptoms of certain types of IBS by optimising carbohydrate metabolism and mal-fermentation.
Our scientists discovered that the active digestive enzymes in ERME help break down carbohydrates before they can cause symptoms such as bloating, stomach cramps, constipation and diarrhoea. 
BACKED BY SCIENCE AND GUT EXPERTS
The research that has led to JUVIA was the first to establish the role that bacteria and fermentation plays in gut health. Published in the Lancet back in 1982 by Professor Hunter, the research⁴ led to an understanding that when the small intestine doesn't digest food completely, especially carbohydrates, it can cause malfermentation in the large intestine. In turn, this can lead to the growth of unhealthy flora. This imbalance can irritate the gut.
Prof. Hunter has been published in:





HOW ERME WORKS
Our research suggests ERME works in two ways − it consists of a range of enzymes, including amylases and glucanases, which break down starch and plant materials into glucose and other simple carbohydrates early in the digestive process and provide energy. This means that much less starch is available for mal-fermentation in the lower gut.
The enzymes are surrounded by a matrix comprised mostly of malt polysaccharides, which protects the enzymes as they pass through the stomach. The matrix also re-balances the naturally-existing microbiome, improving the levels of 'good' bacteria. Unlike probiotics, alien bacterial species are not introduced.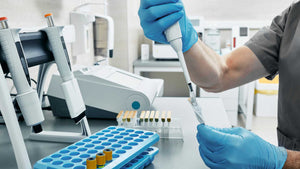 Latest study with the NHS: How JUVIA benefits patients with IBS, Wales
Our commitment to providing the most up-to-date scientific knowledge remains unwavering. As part of our continual research efforts, we are currently engaged in a study with the NHS on the benefits of JUVIA on patients with Irritable Bowel Syndrome (IBS). Our aim is to ensure that you receive the most cutting-edge information available.
Pilot studies at The Royal Institution of Great Britain
An initial pilot study showed that IBS sufferers' symptoms were significantly improved after taking the recommended dosage. Hydrogen breath levels (a marker for poor carbohydrate metabolism) after eating bread were significantly lower with ERME vs Control.
Professor Hunter's work also showed that when certain carbohydrates are restricted in the diet, IBS symptoms and malfermentation are reduced². Read more in The Lancet.
Date: 2017, 2018 and 2019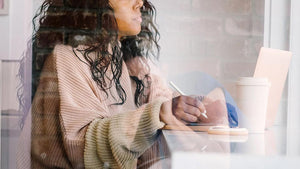 A study on constipation at The Functional Gut Clinic, Manchester 
An open-label pilot study of 15 patients showed that after 4 weeks of ERME, the overall constipation score was significantly reduced as determined by a Knowles-Eckersley-Scott Symptoms (KESS) questionnaire. Bloating, pain and flatulence were also significantly reduced. Read more in BMJ/Gut 
Date: 2021 and presented to BSG 2022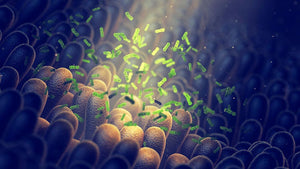 IBS study at Edith Cowan University, Australia
ERME has been investigated in a randomised, placebo-controlled, double-blind study examining a number of IBS symptoms, lifestyle factors, and biomarkers and using the cutting-edge technique of metagenomics (identifying the species in the microbiome by looking at the DNA/RNA). This is important because conventional culture techniques cannot identify most gut bacteria. Results will be available later this year.
Date: 2022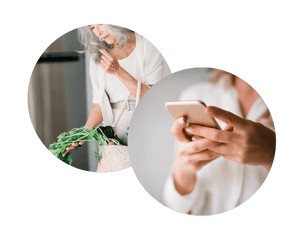 BECOME OUR AFFILIATE AND HELP YOUR PATIENTS WITH IBS
Are you a nutritionist, dietician or other healthcare professional looking to recommend JUVIA to your patients? Join our affiliate program and receive a commission for each new customer that purchases JUVIA through your unique link. 
If you're interested in a different kind of collaboration or would like some more information, please send us an email.
Törnblom H, Goosey R, Wiseman G, Baker S, Emmanuel A. Understanding symptom burden and attitudes to irritable bowel syndrome with diarrhoea: Results from patient and healthcare professional surveys. United European Gastroenterol J. 2018 Nov; 6(9): 1417–1427. PMCID: PMC6206540; PMID: 30386615
King TS, Elia M, Hunter JO. Abnormal colonic fermentation in irritable bowel syndrome. The Lancet. Volume 352, Issue 9135, 10 October 1998, Pages 1187-1189 https://pubmed.ncbi.nlm.nih.gov/9777836/
Thompson WG, Heaton KW, Smyth GT, Smyth C. Irritable bowel syndrome in general practice: prevalence, characteristics, and referral. Gut. 2000 Jan;46(1):78-82. doi: 10.1136/gut.46.1.78. PMID: 10601059; PMCID: PMC1727778.
Alun Jones V, Shorthouse M, McLaughlan P, Workman E, Hunter JO.  Food Intolerance: A major factor in the pathogenesis of Irritable Bowel Syndrome. Lancet ii: 1115-1117  1982

https://pubmed.ncbi.nlm.nih.gov/6128447/