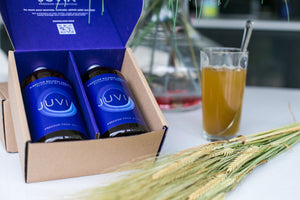 JUVIA unboxing: What's in the box
Welcome to JUVIA, where your gut health is our top priority!
Let us walk you through the JUVIA unboxing process.
Rebalancing Phase
When you receive your very first JUVIA order, you will get 2 boxes, each containing 2 bottles. So that's a total of 4 bottles, which will last you for six whole weeks.
Now, let's talk unboxing! As soon as you receive your JUVIA package, carefully remove the tamper seal that secures the box. 
Inside, you'll find two sleekly designed bottles filled with our liquid gut health supplement. Once opened, you'll be able to conveniently store them in your refrigerator so that they are easily accessible for daily use.
We take great care in the packaging of our JUVIA product to ensure that it arrives at your doorstep safe and secure with all of the bottles intact. Our box tamper seal ensures that you can trust what's inside and know that you're getting the best possible product to support your gut health journey.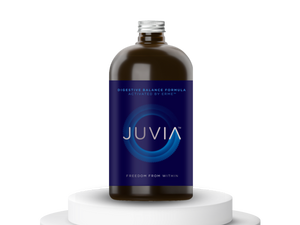 GUT REBALANCING FORMULA
FROM £39 (2 bottles) - 65p/serving
✔️ 8/10 started feeling an improvement after 1 week*
✔️ Money-back guarantee. No commitment
✔️ Free 24 hour tracked shipping
✔️ Skip/stop deliveries anytime
shop now
Maintenance phase
During the Maintenance Phase, you'll continue to receive top-notch support from JUVIA with a monthly shipment of a single box containing 2 bottles. This phase ensures that you continue to reap the benefits of our active ingredient and maintain your improved gut health over the long term.
So, whether you're in the Rebalancing or Maintenance Phase, JUVIA will provide you with the total gut health solution that you deserve. Get ready to feel and look better than ever with JUVIA!
Haven't placed your order yet? Order JUVIA today. And don't forget that you can save yourself 10% if you subscribe to our newsletter.
Gut any more questions? Check out our FAQ page.